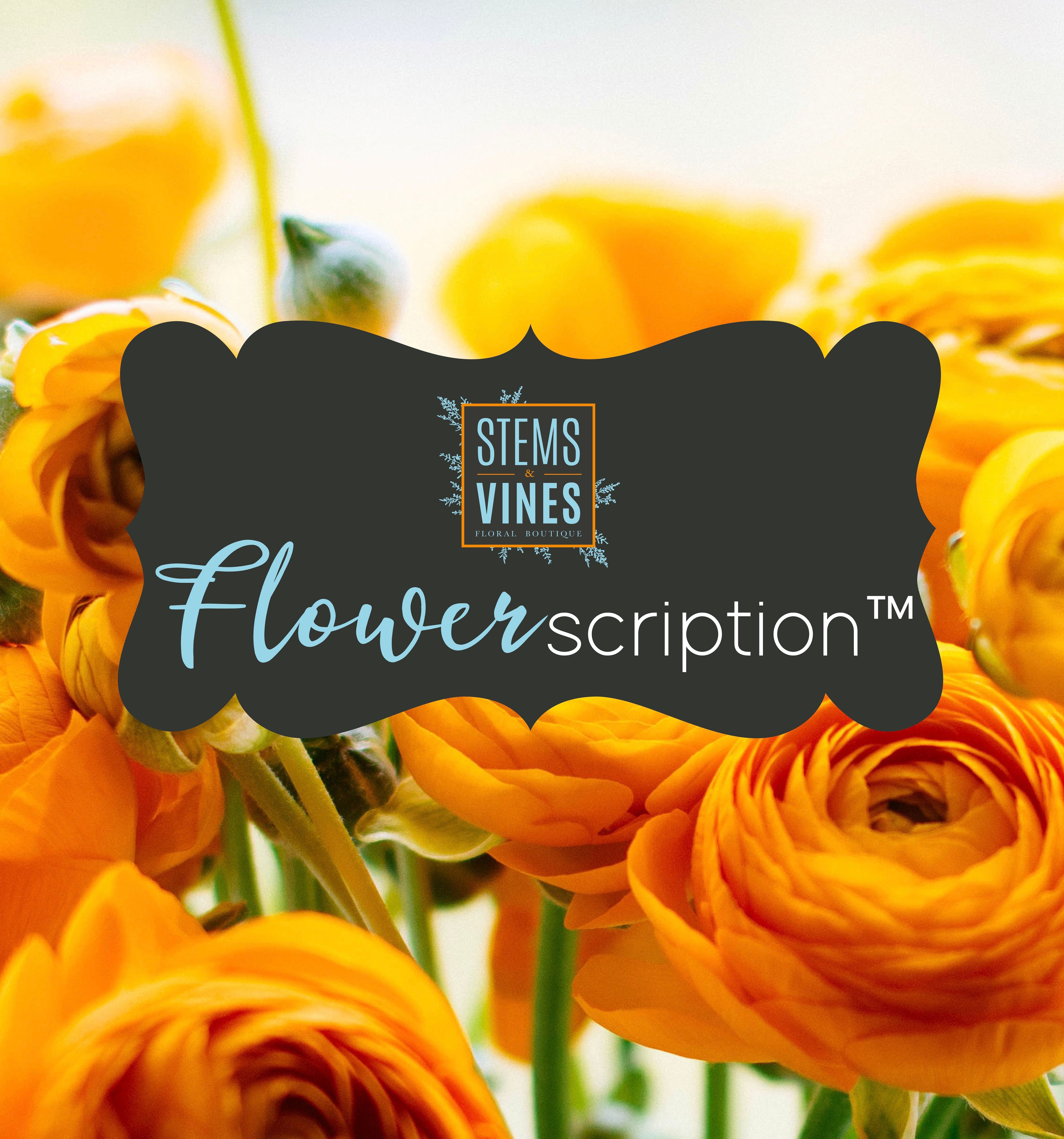 Stems & Vines FlowerscriptionTM Program
Simplify your life and brighten your home or office with a Stems & Vines flower subscription!
Create a package that fits your needs, and receive seasonal fresh flowers at your doorstep!
Delivery Options:
Weekly
Bi-weekly
Monthly
(based on monthly value - not including delivery or sales tax):
$50 - 5%
$100 - 10%
$150 - 15%
6 month minimum
Must maintain selected delivery day (see below)
Orders filled with seasonal fresh rotating flower selections
Q:
I'm in - how do I get started?
A:
Hurray
! Give us a call at (952) 200-8083 or shoot us an email at hello@stemsandvines.com
Q:
What flowers will I receive? Can I make specific requests?
A:
Flowerscriptions are filled with fresh seasonal flowers that will change over the course of the year.
While we can't promise specific requests, we are happy to accomodate requests for flowers to avoid filling in your order.
Q:
How do the discount levels work?
A:
Good question. Simply add up the total monthly value of your subscription (monthly frequency x dollar amount per order)
and you can determine your discount benefit applied to your entire subscription.
For example, if you subscribe bi-weekly at $50/order your monthly value is $100 and you will receive 10% off!
Q: When am I charged - do I have to pay upfront
?
A:
You do NOT pay upfront
. You are charged upon sign-up for your initial order and then 2-3 business days prior to each subsequent delivery over the life of your subscription.
Q: What days can I get my flowers delivered
?
A:
We ask you to choose a delivery day and frequency (for example, the 15th of every month or every other Tuesday)
that works best for you when signing up and then do your best to keep the schedule.
Available delivery days are Monday-Saturday and are typically made between 11am-4pm.
We will do our best to accomodate change requests made at least 48 hours prior to your delivery date.
Q:
Are the flowers wrapped
or arranged in a vase/container?
A:
Either! We're happy to deliver the end product ready to drop on your table or desk.
Have your own vase? Great, we'll just send flowers ready for you to drop into your own container
(you may need to make some trims to fit and then get into water asap).
Q:
Can I give a subscription to someone else as a gift?
A:
Look at you, you thoughtful son of a gun! Absolutely, subscriptions make for an amazing birthday, holiday, or anniversary gift that keeps on giving.
Q:
How do I end my subscription?
A:
Any time after 6 months you are free to end your subscription by contacting us
at least 48 hours prior to your next scheduled delivery date.
Q:
What does delivery cost
?
A:
For our subscription members delivery is only $9 which is 15-20% off our standard rates.
Q:
I'm in - how do I get started?
A:
Hurray! Give us a call at (952) 200-8083 or shoot us an email at hello@stemsandvines.com
Other questions not answered here? Please call us at (952) 200-8083 or shoot us an email at hello@stemsandvines.com